I saw three things on Tumblr in the last 24 hours that spoke to me.
First, check out
this charming short film
about two women flying for the first time. I want to be Ria's BFF. What an inspiration. She's adventurous, encouraging, and leads by example to help An overcome her fears. What a wonderful person. I hope she is able to go on many more airplane rides to beautiful locations.
Also today's xkcd: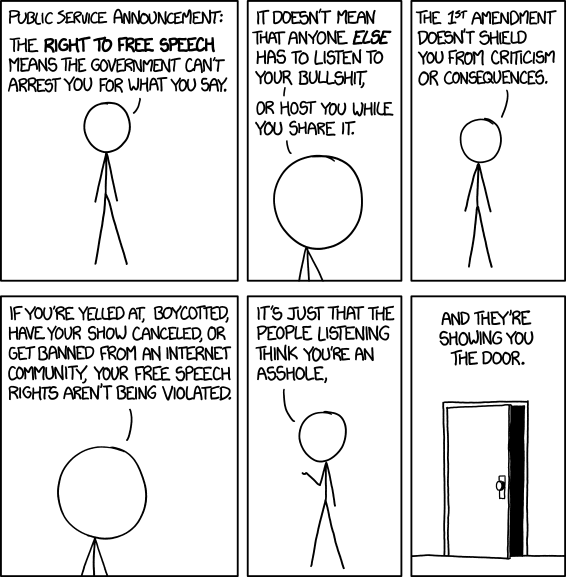 And
this Daily Show gifset
.
I don't like it when people act compassionately toward or give the benefit of the doubt only to people they know personally. Unlike

mckitterick
, I don't have much hope for the human race, but if we're going to improve (or even survive), we must stop judging other people based on anything other than individual circumstances and behaviors. I sincerely doubt that anyone has ever experienced emotional growth by jumping to conclusions. And human beings
really
need to work on our emotional growth.
When I first saw this video (almost four years ago), I started to examine my own empathic response (or, rather, a noted
lack
of empathic response).
After watching that video, I realized that I, either by nature or nurture, did not have the empathetic response of an ideal modern human being. I was, basically, emotionally stunted. And that was kind of horrible and embarrassing. Most people like to think of themselves as basically good people. And I'm not saying I was a bad person, but I wasn't as emotionally aware or as capable of compassion as I felt was necessary to deserve the love and respect of those I cared about.
I had to do a lot of work to get to a point where I could comprehend the idea of empathy. I had to talk it out more than I wanted to (thank you,

mckitterick
for being the world's most patient partner), I had to pretend like I cared (fake it til you make it), and I had to open myself up to emotions that made me incredibly uncomfortable. And I'm gonna be honest,
I still don't have a lot of empathy
. I don't know that I ever will. Whether I was born with that lack of wiring or whether it wasn't adequately developed when I was growing up, I have no idea. I just don't have it. I'm not talking some superficial New Age "I feel your pain" bullshit, I'm talking a general sense of compassion for people in different circumstances. I don't
feel
it. I can't
internalize
it. But I
can
recognize that empathy and compassion are crucial components to avoid winding up just as hateful and small-minded as the conservatives Jon Stewart condemns, above. Those people are actually regressing in their emotional development. Hundreds of years of neurological development and those asshats are devolving. They're so fearful of new worldviews that they would rather return to a less-developed state than accept change. That makes me angry.
What a fucking waste
, and also,
get over yourselves
.
My reaction to people like that is similar to my reaction to people who say they could never be as committed as I am to positive lifestyle change. Baloney. If I can do it, anyone can do it. I am by nature selfish, lazy, and disinterested in other people's problems. But I don't want to be that kind of person. That kind of person sucks. I want to make people suck less, and there is no way to help other people improve without improving myself. So unless I want to live my life as a hypocrite, I must continually work to better myself--physically, mentally, and emotionally.
I do not believe that the human race will thrive and reach the stars--at least not for any
good
reasons. But in order for me to enjoy this tiny, short, and insignificant life I must feel that I'm at least not damaging our chances to do so.